On 14-15 February 2020. Khon Kaen University held the 17th Art Lane and The 4th International Food Festival 2020 at Sapankaow, KKU. This event honored by Assoc. Prof. Charnchai Panthongviriyakul, Acting President, KKU and Assoc. Prof. Niyom Wongpongkham, Vice President for Arts, Culture, and Creative Economy deliverd a welcome speech. In this event, there were Flash Mob Show from the students , programing in Performing Arts, designed works from the students, programming in Visual Communication Design. Also, there were many people interested in joining.
Asst.Prof.Dr.Burin Plengdeesakul, the Dean of Faculty of Fine and Applied Arts said Art lane project has continuously held for 17 years. This year (17th ) the project was transformed related to KKU's vision and mission. We develop the project in the concept of creative, ASEAN , and international by invite 27 organizations, institutes and networks that have MOU with KKU, including international institutes in ASEAN region, and international institutes to participated in this creative event in order to integrate, preserve and support our art culture and ASEAN local wisdom also international in practical way.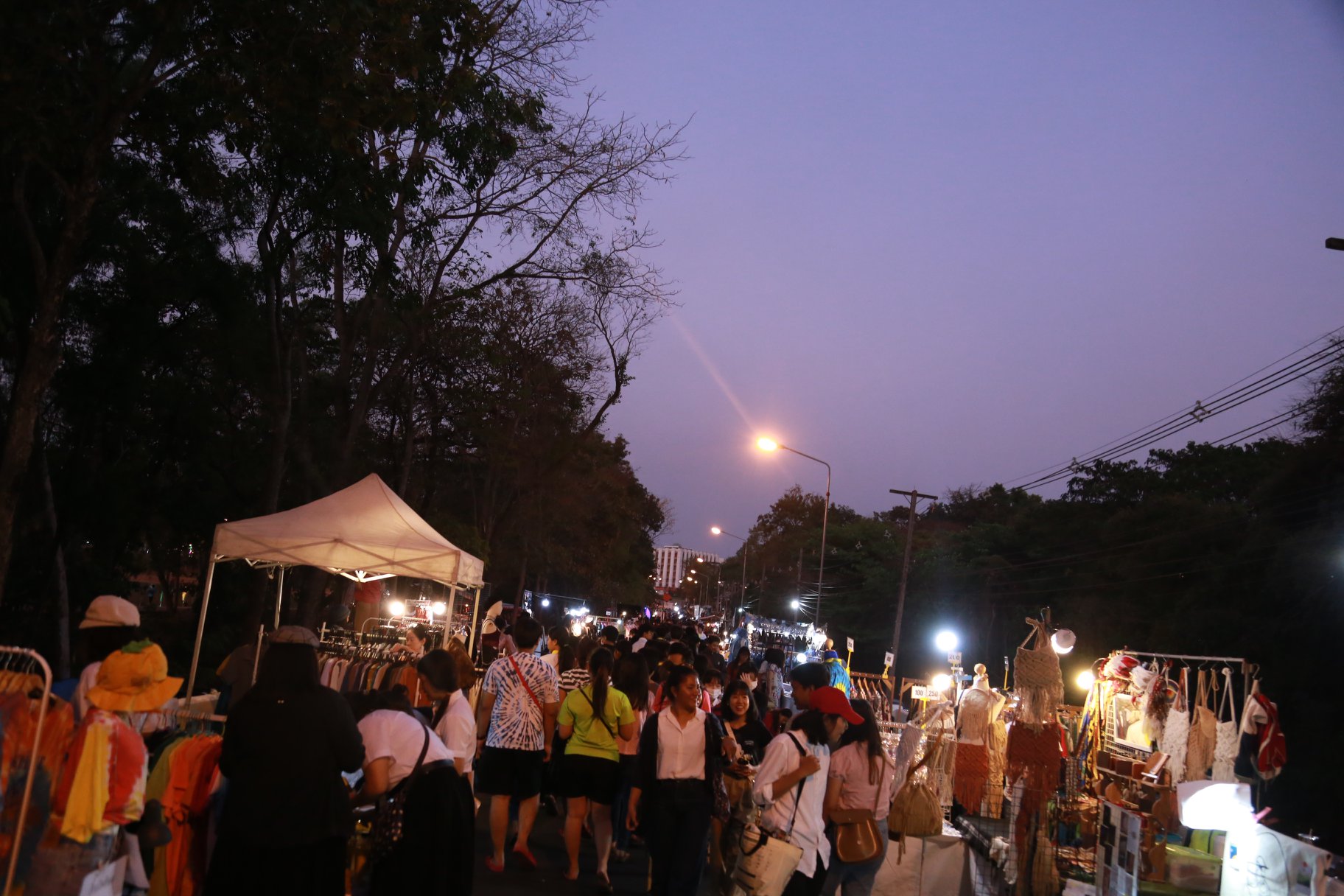 Khon Kaen University and various sponsors supported this event. Also, it cooperated by the lecturers, students, staff, and alumni with the objectives of disseminate academic arts works from lectures, creative thinker and integrated research in art knowledge  through street art work which divided into two parts. First, the creative academic that focus on integrated learning of Faculty of Fine and Applied Arts. Second, creative career, which focus on artists, singers, and professional actors.
Moreover, on 14-15 February, 2020 at TE Outlet, Faculty of Technology held The 4th International Food Festival, honored by Assoc.Prof.Dr.Pornthap Thanonkeo ,Dean of Faculty of Technology. This annually event purposed to introduce the ASEAN country food and involving International student in Faculty of Technology were Myanmar, Cambodia, Indonesia and China.
During event, there were many competitions to join during event such as Mr. and Mrs. Photogenic, Best Costume and Best Food Presentation as well as Zumba dancing. In addition, not only International students involved many street food vendors.
Therefore, in this event there are many foods provided such as Gado-Gado (Salad with Peanut sauce) and Rujak from Indonesia, Rice Pancake from Cambodia, Carrot Salad from Myanmar, Fruit with sugar icing from China and others delicious food. In addition, the Cambodian students won the 1st Winner for Best Food Presentation, and the 2nd from TE students collaboration with Indonesian students
The 17th Art lane project  2020
The 4th International Food Festival 2020